Frequently Asked Questions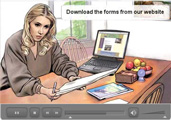 Running time: 3-1/2 Minutes
Requires Flash 8
What should I expect at the time of my first visit?
At the time of your evaluation, you will be required to fill out a few forms, as well as provide us your insurance card to copy and physician prescription if available, although not required.
Your first visit will typically last between 60-90 minutes. It will consist of a thorough medical history and comprehensive physical examination (helpful to wear loose fitting work out attire). After the exam, your therapist will initiate a tailored treatment as well as prescribe you a home exercise program. Finally, after your first visit, your therapist will send your physician a detailed report.
Do I need a prescription to begin physical therapy?
As of October 1, 2006, state legislature passed the direct access bill for physical therapy in Connecticut. This law permits patients to seek physical therapy without the need to obtain a prescription first. This would allow you to obtain physical therapy immediately without having to see your physician or orthopedist first. This law is not intended to defer you seeking medical attention for your orthopedic care, but rather allow you to receive immediate effective care first. Once we begin therapy, we will contact your physician and detail the plan of care. You always have the option of seeing your physician before or during the physical therapy regime. Insurance carriers, including Medicare, fully support this change and direct access does not negatively affect reimbursement.
This change in state law applies for both exacerbations of older injuries as well as new orthopedic conditions. Upon evaluating you, if an immediate need is found to refer you to your family physician and/or orthopedist, we will direct you appropriately.
Is physical therapy covered by my insurance?
Generally insurance plans, including Medicare and Workers' Compensation, allow for physical therapy visits. In most cases all or the majority of the fees are covered. Some plans require a co-pay or deductible to be paid at the time services are rendered. Upon contacting our office, the office staff will gladly call prior to your first appointment to verify your benefits and alert you of any amount you may be responsible for.
Should I bring my X-ray and/or MRI results to my first visit?
Although not required to begin physical therapy, if you have had relevant diagnostic imaging prior to your evaluation, it would be useful for you to bring in the radiologist reports. You may have to sign a waiver to request your results to be faxed to this office.
Conversely, if after beginning physical therapy here and clinically necessary, we may suggest to your physician that you have these tests. We will be happy to communicate our concerns with your physician, or refer you to an appropriate specialist.