by Kyle Branday, MSPT, CDN, March 30, 2020
Tags: COVID-19, E-Visit, Health, physical therapy, Telehealth, Wellness
The last few weeks have hit everyone like a punch to the gut with COVID-19 showing up.  Our world and day to day lives have been rocked in ways few of us could have imagined.  Schools and restaurants closed, grocery stores with lines out the doors, and all of us attempting to limit interactions.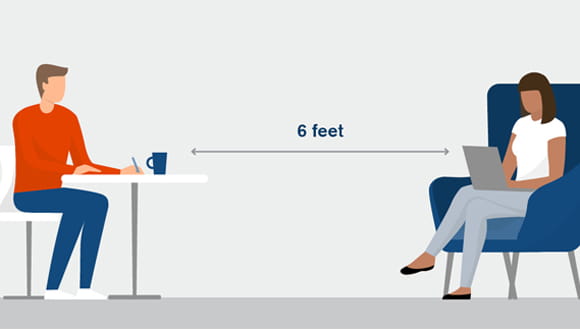 Social distancing has been at the center of what we are doing currently in our society.  The attempt to limit the spread of COVID-19 has created a societal need for distance.  And while medical facilities and grocery stores remain open, many people are locking their doors and throwing away the key until the storm clears and the Lysol kicks in.
The reality is that during a period of time such as this, it is imperative that we move often and move well to stay healthy.  Yes, some people are tentative about leaving the house for even simple outdoor exercise.  Others are spending the vast majority of their day setting up their work station at their dinning room table, perched on a barstool at the kitchen counter, or lounging with a laptop on their lap with their feet on the coffee table.  All of this to adapt to the new temporary norm of working from home (check out another great article regarding proper ergonomics).
Bottom line is this:  we are more home bound and we are bound to be more sedentary.  This is going to lead to more spinal pressure, stiffer joints, weaker muscles, and more pain.  This is bad enough for every day people, but imagine all those patients that suddenly lost access to their care.  Some of whom can't leave because they fall into higher risk categories with immune systems that are compromised or have other conditions that would lead to a higher risk of COVID-19.
Luckily, we have been hard at work for our patients.  While our physical therapists are still in clinic as essential healthcare workers treating our patients, we have also launched E-Visits!  These are one to one visits held through a web site called Doxy.me, in the comfort of your own home.  The experience is very similar to if you were to FaceTime someone or do a meeting through Skype or Zoom.
While these visits are not a new thing in the world of healthcare, insurance companies have been finally getting their ducks in a row to allow Physical Therapists to bill them for these sorts of online visits.  They are essential to allow us to provide proper care to the abundance of patients who are unable to access their Physical Therapists currently.
All you need is a smart phone, tablet, or a computer with a webcam.  The process is as quick and easy as opening your email.  But what about patients who don't have technology that can accommodate an E-visit?  Most insurances are also permitting telephone-based visits such as telehealth which will allow your provider to give you advice and direction in your medical care over the phone.
Like every other profession that provides telehealth and web-based services, there are limitations to providing online medical services.  For most of you that have been through PT, there is typically a hands-on portion whether it be stretching, massage, or joint mobilization.  Lucky for all of us that one of the best skill sets we as therapists possess is our ability detect dysfunction, improper movement, or weaknesses without laying a set of hands on a patient.  The quality of movement speaks volumes to us about the problems going on.
Working through that assessment visually allows us to then prescribe the proper changes.  Whether stretching, strength training, specific muscle isolation and engagement, physical therapists can change those faults through a virtual medium.
During these difficult times we have to get creative in our solutions to the more complex problems challenging our lives.  For those of you with orthopedic or neurological dysfunction, don't think that social distancing halts your care.  Allow your physical therapist to show you the difference E-Visits can make for you.
For questions rearding E-Visits, call us at (203) 389-4593.  To schedule an E-Visit appointment CLICK HERE
Kyle Branday, MSPT is a licensed Physical Therapist and a partner at Amity Physical Therapy. He is a graduate of Quinnipiac University where he earned his Master's degree in Physical Therapy. In addition, Kyle has also received a certificate of completion from the Institute of Advanced Musculoskeletal Treatment in Dry Needling. Kyle enjoys treating patients with a wide range of orthopedic and neurological conditions.
Kyle has extensive training in the diagnosis and treatment of acute and chronic orthopedic and sports injuries, neurological rehabilitation, manual therapy, sports specific training, Selective Functional Movement Assessment (SFMA) and works with patients ranging from pediatrics to geriatrics. Kyle is an avid sports fan and works with our patients in our Sports Performance Programs.  To schedule an appointment with Kyle CLICK HERE